Magic World Tour project

Pelion is a mountainous peninsula endowed with amazingly beautiful thick forests in central Greece. It is also known as the "Medicinal mountain" since it is full of medicinal herbs and plants.
In Greek mythology, Mount Pelion was the place where many ancient Greek heroes, such as Jason, Achilles, Theseus and Hercules were educated. Nowadays, Pelion's twenty-four, close-to-the–sea villages retain traditional Pelian architecture and construction with stonebuildings.
Posted by Maria Antonietta Sessa on 2nd March 2014
Posted by Matina T <3 on January 29, 2014 at 2:40 PM
Our school is located near the castle of Thessaloniki which was built on the spot of the ancient Acropolis, founded by Cassander in 316 B.C. The walls of the castle, that are still visible today, date from the 4th century A.D. when the Byzantine emperor Theodosius I fortified the town. Eptapyrgion (7 towers) was built in the Venetian period (1423-1430) to resist the Turks. The Castle, is located on a hill above the Old Town (Ano Poli). Its location gives gorgeous views to the city, the port and the Aegean Sea. Many buildings and towers were constructed all along the Byzantine period, till the town was conquered by the Ottomans in 1430. Few years later in 1444, the castle was renovated, old buildings were destroyed and more towers were built. In fact, the Castle has ten towers in total, although its name Eptapyrgion means seven towers. Till the 1890s the Castle was the seat of the garrison commanders and then it was turned into a prison till 1989. In fact, this prison was known as a severe place of torture as it is frequently mentioned in the underground rebetika songs. After the damages that wars, earthquakes and time have caused, the Castle of Thessaloniki is open to visitors, and the view from the battlemants is breathtaking.It attracts a lot of tourists,and it's one of my favourite placestohang out with my friends,so if you ever visit Thessaloniki give me a call and we can go for a walk on the most amazing-in my opinion- place of the whole city:)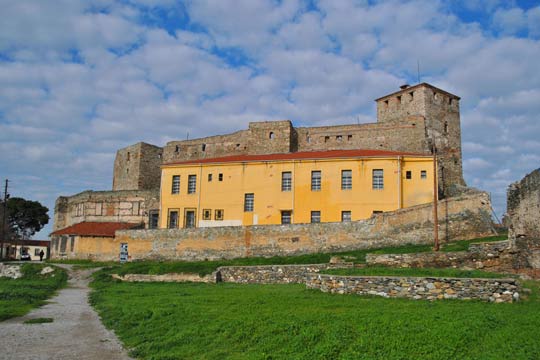 These are some photos of the Eptapyrgion now
And now some photos of how Eptapyrgion was thought to be when it was first build.